The ability to monitor the temperature of your Home, Garage, or RV is critical when you are away. Excessive temperatures can lead to flooding, high electric bills, burst pipes, and other costly damage.
Do you want a wireless room temperature monitoring system to check temperature or humidity in a room, a remote vacation home, a greenhouse, a refrigerator temperature monitor, and more, all from your cell phone?
In this article, we discuss remote temperature monitoring via cell phone and introduce the best features of a smart home WiFi temperature sensor.
To Monitor Temperature Remotely, you will need the following:
Install WiFi in your Home, Office, or RV
(optionally use a Mobile Hotspot with WiFi)
Get a WiFi Temperature and Humidity Sensor
Install the App on your Cell Phone to Monitor
Top Features of a Remote WiFi Temperature Sensor:
1. Built-In WiFi:
In order to monitor temperatures from your phone, you will need a remote temperature sensor device that uses WiFi, so it can use your home, office, or mobile hotspot router to transmit the data.
Some wireless remote temperature sensors may use Bluetooth, but this will only work if your phone is within 100 feet of the sensor, it won't work remotely when you are far away from home.
There are very few products on the market that have Wi-Fi built-in (see one that does below), some allow for Wi-Fi as an add-on with the purchase of an expensive gateway/hub or require you to install a wall thermostat.
Sharing allows your friends or family members to see your WiFi Temperature monitor that you wish to share with them.
This feature allows them to also monitor the home temperature remotely, and get alerts if you want them to. They would simply install the App on their mobile phone and create an account. Then you can share 1 or more of your sensors with them.
3. Update Interval:
The update interval or frequency is how often the temperature sensor sends the data to the WiFi network so you can view it on your cell phone.
You will want updates every 5 minutes or less. Most sensors should update every few minutes, or allow you to select the update frequency as this could be a trade-off for longer battery life.
4. Remote Temperature & Humidity Graphs
With a good mobile phone app, you can see graphs of the temperature and humidity data for each of your sensors.
For example, you can see in the graph below the temperature lows and highs and what time of day this occurs. This can help you locate the problems causing the high or low temperature for the area you are monitoring.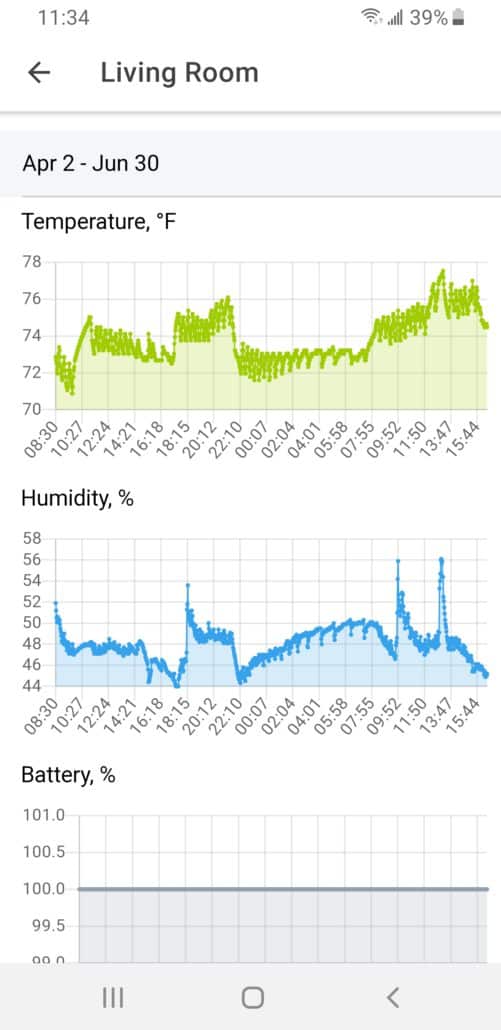 5. Wireless Temperature Monitoring with Data Logging:
The sensor should be able to Record or Log the Temperature and Humidity data in case the Wi-Fi signal is lost or not in range. Once Wi-Fi is restored, it can connect automatically and upload the recorded data.
As a bonus, this allows you to record temperatures in a remote location (away from any Wi-Fi), and you could even use your phone's mobile hotspot to retrieve the data at any time.
Just add your phone's hotspot as one of the Wi-Fi Profiles when you set up your new Wi-Fi temperature sensor.
The temperature sensor should take a measurement or sample every 1 or 2 minutes, this is a reasonable amount of time to record each data point.
(see our related article on additional benefits of a Humidity Sensor.)
6. Email Alerts sent to Multiple People:
You may want the ability to send High/Low Temperature Alerts to more than 1 email address. For example, the temperature sensor email alert can be sent to a friend or neighbor in case you don't receive the alert, or you are out of town.
It's also possible to forward an email alert as an SMS text message to your phone using your mobile email address. Here's a list of mobile carriers and email to use to send the alert.
7. Long Battery Life and Small Size:
For a battery powered Wi-Fi temperature sensor, the typical battery life should be about 6 months with 4-5 minute updates.
Some Wi-Fi temperature sensors say the batteries last 1 year or more, but that is because they only update once every hour. That is not frequent enough if something should happen to the Wi-Fi router or a power outage to be notified in time.
Battery life will vary depending on how close the Wi-Fi temperature sensor is to your wireless home router and its update interval.
Also, a small-sized temperature sensor is great, so it can be placed in many locations without being obstructive.
8. Extern Power via USB, for Permanent Install:
A wireless temperature sensor that can run off of external power is another great feature, you can install it in a more permanent location and not worry about changing the batteries.
This should be a common micro USB power cable. so it could be plugged into any laptop or cell phone charger.
9. Alert if Home Power goes Out:
If you plug in the remote temperature device to external power, and the power is lost, you will get an alert.
This is a powerful feature since you can get power loss alerts for your Home or RV, for example.
However, in order for this to work, your wireless home router must be connected to an Uninterruptible Power Supply (UPS), Battery Backup. I like this one for my home router and have had no issues with it.
All you would need to do is plug your network router(s) into the power backup and plug the remote temperature monitor into a regular outlet. So when the power goes out or is restored, you get an alert.
A Mobile Hotspot should work fine too since they have internal batteries if power is lost.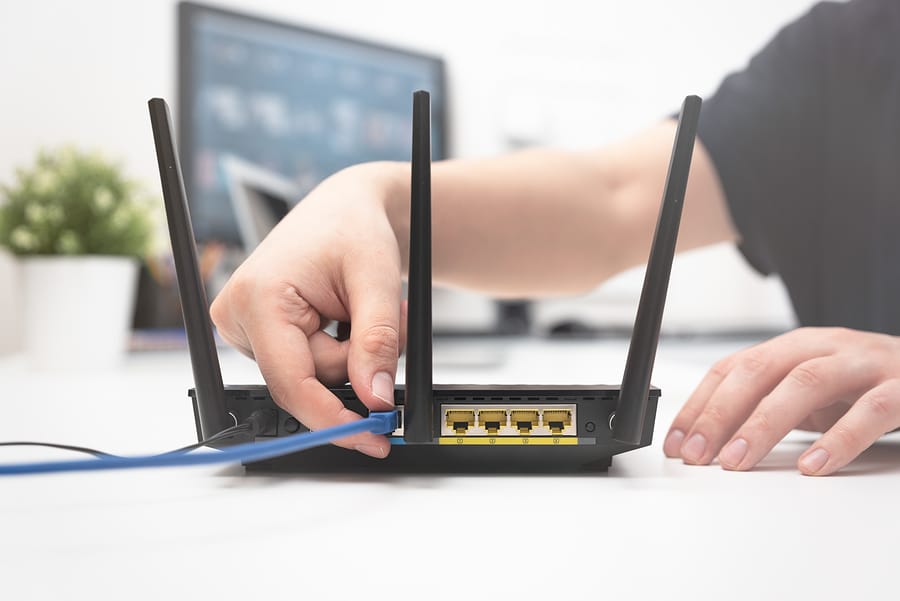 10. Remotely Monitor from your Cell Phone using an App:
A good remote temperature sensor should include an App that works on both a mobile phone and a Desktop browser. The App should allow you to see Full Graphs of the Temperature, Humidity (if equipped), and Battery Levels.
Monitor many temperature sensors from the same mobile App.
You should be able to set Alerts for High or Low temperature levels. This is probably the main reason you want a remote temperature sensor in the first place.
11. No Special Permissions needed from the Phone App:
When you install the App for your WiFi Temperature Sensor device, it should not ask for extra Permissions to access Media, Location, or Contacts, only Notifications.
There is no need for this kind of special access to your mobile phone, beware.
12. Alerts if the WiFi Temperature Sensor is Not Updating:
This can be a critical feature since you will want to know if your sensor has stopped working or is unable to send the temperature data to the cloud.
Maybe the internet is down, power is out in the area or there is some other problem, so, you will want to know if there is a loss of communication.
You may decide which features above are important to you, but it is worth pointing them out.
Having multiple sensors may be a good idea in your house, room, or area you want to monitor, just in case you may not return for a long time and need the added redundancy.
Very Accurate Temperature Sensor
Trakkit THS uses a highly accurate temperature sensor, factory calibrated to ±0.35 F degrees. It uses the latest technology to give you one of the smallest WiFi-capable, dual-powered temperature sensors on the market.
Trakkit THS – Smart WiFi Temperature Sensor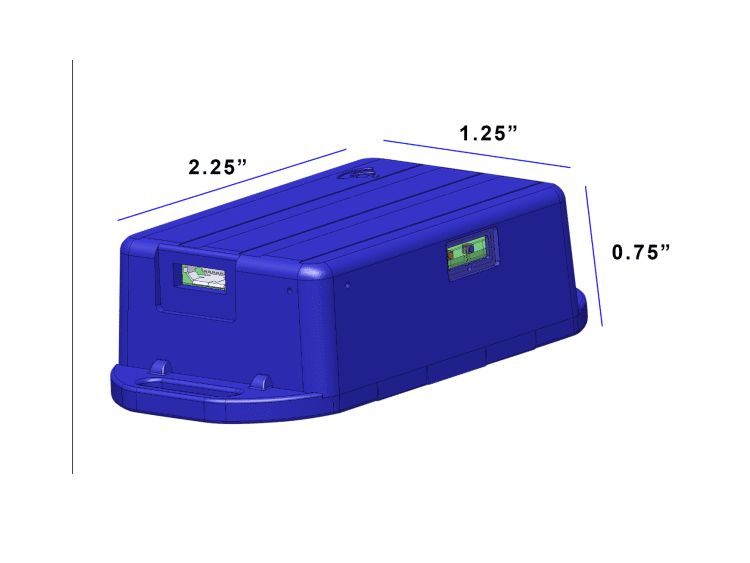 The App for Desktop is here. Mobile is located in the App Store.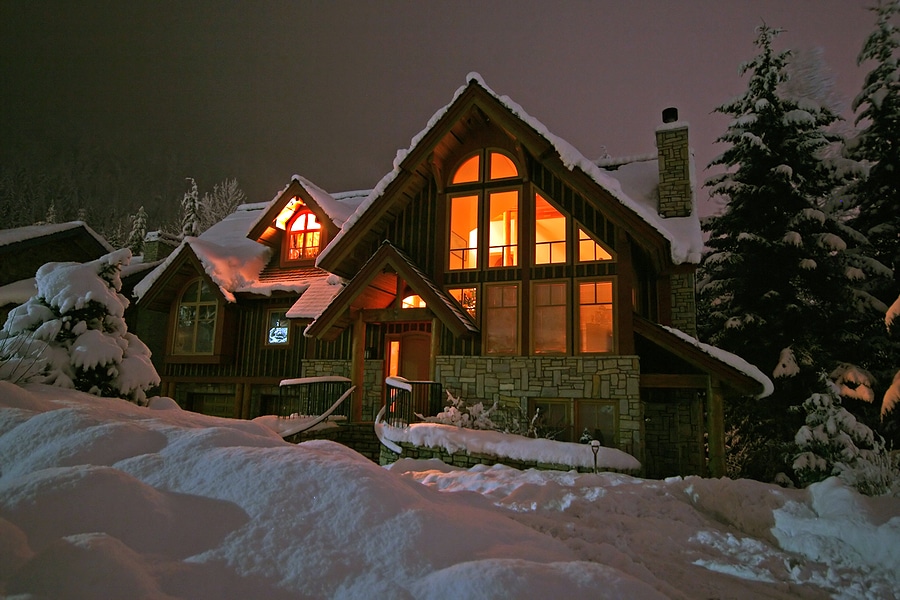 Temperature Monitoring for Vacation Homes & Cabins
If you have a vacation home and you would like to remotely monitor the temperature, Trakkit THS WiFi Temperature Sensor would be an excellent way to do that.
You will be able to get alerts if the temperature is too high or low. Perhaps your cooling or heating system failed, and you want to avoid costly damages such as frozen pipes.
Since it can operate on external power using a standard micro USB cable, you would not need to worry about changing the batteries.
Put one in the attic or crawl space to monitor pipes so they don't freeze. In the attic, you can monitor the temperature during the heat of the day to see how well the insulation is working.
Monitor the humidity as well, to watch for moisture levels in the attic or crawl spaces.
You will need WiFi in your vacation home to monitor Trakkit temperature from your phone. If you don't have WiFi, you could get a MiFi hotspot and keep that in your cabin. Check with your cell phone provider to see which hotspots they offer.
WiFi Temperature Monitor for Refrigerator or Freezer
To monitor the temperature of your refrigerator or freezer, just put a WiFi temperature sensor like Trakkit THS inside and monitor it from your mobile phone.
For example, if you have a walk-in refrigerator or freezer you will be able to monitor its temperature without having to open the refrigerator door.
This is why the WiFi link is so beneficial. You can even get alerts if the temperature goes out of range.
If you run a business, you may benefit from the temperature recording feature that will show the insurance company in the event the power goes out.
Monitor Temperature in Buildings, Storage, Server Rooms, Industrial
Use a WiFi temperature monitor for many locations, such as Server Rooms, Garages, RVs, Building, Storage, and Industrial locations.
Get a remote alert if they freeze, over-heat, or if the power goes out.
Maybe you have multiple properties you would like to keep an eye on.
This is where a remote temperature sensor (with built-in WiFi) can really help. Just put a Trakkit THS in the area most likely to freeze and you can set an alarm rule that will notify you.
It's a good idea to consider the tips mentioned above.
With this, you can avoid any costly loss and damage inside your home and business.
Multi-Room Temperature Monitoring
Since the Trakkit THS sensor connects directly to your WiFi, you can use one to monitor the temperature in every room or zone of your home, or office.
You will be able to see if there are cold or warm areas of your house and make adjustments to your heating or cooling system.
Also, you will see all your room temperature sensors on the same app, add as many as you need. It makes a great addition to your Smart Home.
Quick & Easy Setup
Trakkit THS is easy to setup. Just push the WPS button on your home wireless router, and then plug in your Trakkit.
In a few seconds, your Trakkit will connect to your home network and start sending temperature humidity data. See Trakkit Setup Manual for more info.
---
Trakkit THS Specifications:
Wireless Temperature and Humidity Sensor with WiFi
Only one of its kind with integrated WiFi, no additional hub needed
32,000 Internal Data Log Storage if WiFi not in range
Alerts and Data sent via your Home WiFi
View Unlimited sensors from 1 account, Mobile App or Desktop + Sharing
Compact size for Remote Temperature Humidity Monitoring System with a Mobile App
Can Run On USB Cable for Constant Power
If Power Outage will Reconnect to WiFi when Power back on
Configurable 2, or 4 minute updates
Replaceable Batteries (2 x AAA Energizer Lithium, Pre-Installed)
±0.35F (0.2C) Temperature Monitoring Accuracy
±2% Humidity Monitoring Accuracy
Very Accurate, Factory Calibrated Sensor
Operating Temperature Range: -40F to 140F (-40C to 60C)
New Features & Upgrades over WiFi Connection
Not Waterproof
Works on 2.4 GHz WiFi Only
10″ Micro-USB Cable included
---
FAQs:
Can you Monitor Temperature Remotely from a Cell Phone?
Yes, with a WiFi Temperature Sensor, like Trakkit THS, you can watch temperature and humidity from your mobile cell phone, even when far away from home.
What is the Best Wireless Temperature Monitoring System?
The best one has built-in WiFi, can send alerts to multiple people, and has a very accurate sensor like the Trakkit THS, a small wireless temperature sensor, please see descriptions above for a list of features.
What is a Wireless Temperature Sensor?
A Wireless Temperature Sensor has the ability to measure temperature and transfer that data using WiFi, Bluetooth, or other wireless methods.
What is a Remote Temperature Sensor?
A Remote Temperature Sensor is one that can be placed in a different location than a permanent, built-in temperature sensor.
A good remote temperature sensor will also have wireless communication built-in, such as WiFi.
This will allow you to monitor the sensor from a very remote location using your phone.