If you buy through affiliate links, we may earn commissions, which help support our product reviews.
Last Updated: Nov 27, 2022
Do you want to know how to track a car with a cell phone? It is possible to use a cell phone as a GPS tracking device.
Maybe you want to keep track of your teenager, spouse, family members, employees, or find your parked car, this is a great way to do it using a cell phone.
If you don't want to use your own phone, a used phone is cheap, I found one for $64, and I got the cheapest cell data plan I could find at $5/mo (see below). This works for iPhone or Android.
In this article, we'll discuss how to convert a phone into a GPS tracker.
You can even track a car without any SIM card or data plan.
To Track a Car with a Cell Phone, do the following:
Use your Cell Phone, or get a used one
Install the Trakkit app on the Phone
Place the Phone somewhere inside the Car
Monitor the tracked Phone from your Browser
There are many advantages to using a phone to track a car.
Why Convert a Phone into a GPS Tracker?
If you secretly want to track someone's car, then you just leave the phone in their car.
If the phone is discovered, oops I left my phone in your car.
When someone finds a phone in their car, they don't conclude they are being tracked.

However, if they were to discover a GPS tracking device, they will know exactly what is going on.

You will have an extra phone in the car that can be used in case of emergencies.

Even the cost of a used cell phone + low data plan is cheaper than most dedicated GPS trackers.

Cell phones are better than traditional GPS trackers because they can perform well when mounted almost anywhere in the vehicle, whereas smaller GPS trackers need to be mounted in certain parts of the car to get the GPS signal.
Get the Phone to use for Tracking
If you can find a used phone, or maybe you have an old one laying around. You can get used phones that are typically in good condition at sites like backmarket.com and swappa.com.
If you buy a used phone, get one that is unlocked so you can use it on any carrier.
Check if the phone is compatible with the Tello network or T-Mobile.
This NUU phone is about $89 and is compatible with T-mobile and the Tello $5 data plan:
It makes a perfect GPS tracker and a great backup phone, see the latest Amazon Price.
Get a Cheap Data Plan for Real-time Tracking
Then get a data plan for that phone at Tello.com (this is the $6 plan I use for my tracking phone, I got the 100 minutes for $1 in case we need to use the phone for emergency calls).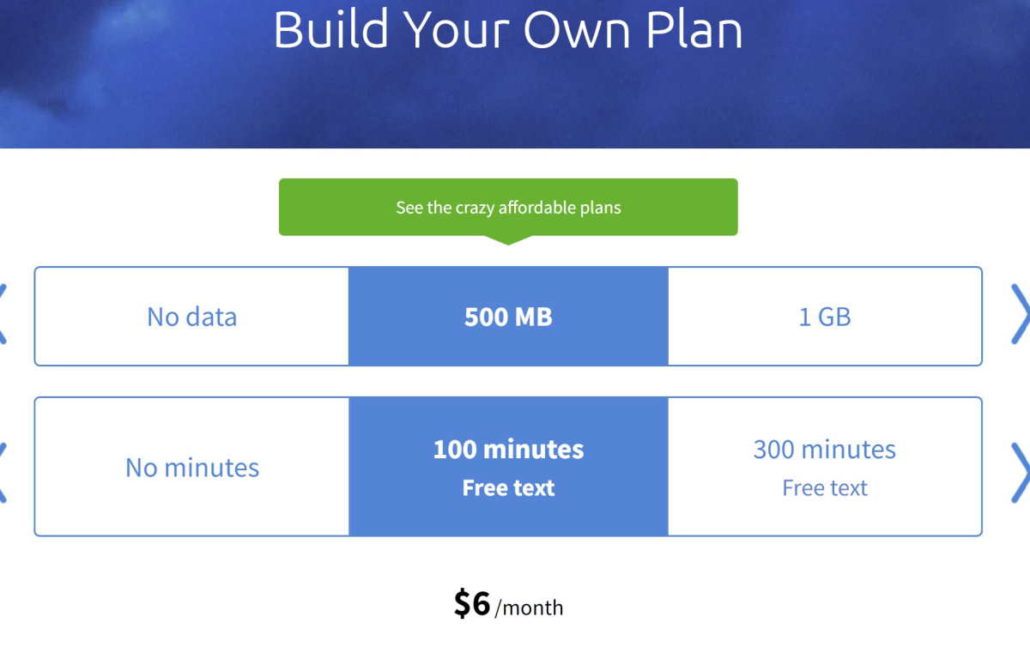 * The data plan at sites like Tello lets you put in the model or IMEI # of the cell phone you want to use to see if it is compatible with their network.
I like the Tello plan because if you use all your data for that month it throttles down to 2G (instead of cutting you off) which is fine for a GPS tracking phone.
There are others like usmobile.com which will work with T-Mobile or a Verizon phone.
See more info on cheap data plans.
The Trakkit app will not use much data, so the minimum data plan is fine, like 500MB / month. You could even get a 100MB plan depending on how much driving you do or real-time tracking you need.
Trakkit creates GPS tracks at about 2-minute intervals, so driving about 1.5 hours every day uses only 160MB per month.
Install the GPS Phone Tracking App – Trakkit:
The next step is to visit the app store from the phone you want to track and install the Trakkit app from the Apple Store or Google Play Store.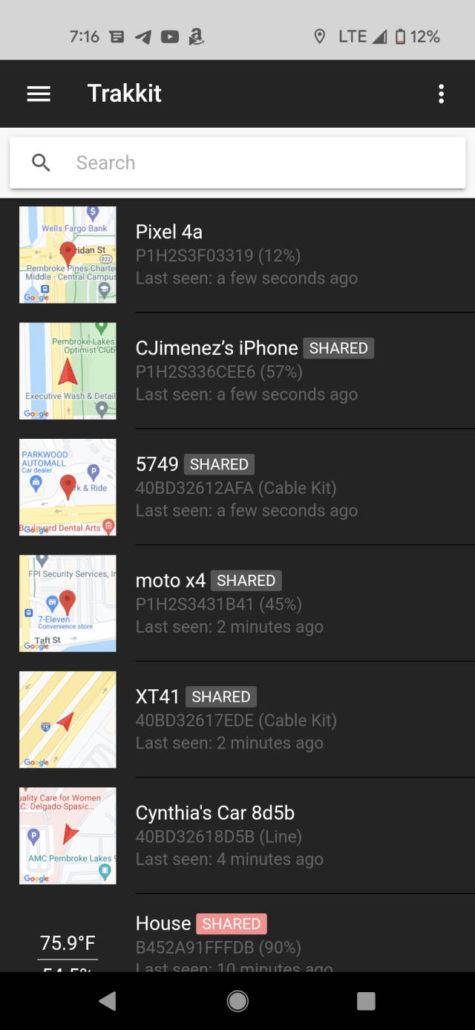 Open the Trakkit app and create a new account. (If you want, use a separate email address when you set up the phone, or just create a new one).
Once logged in, you should see an option to:
+ Add To Track this Phone.
Select that option and you should see a series of location permission popups.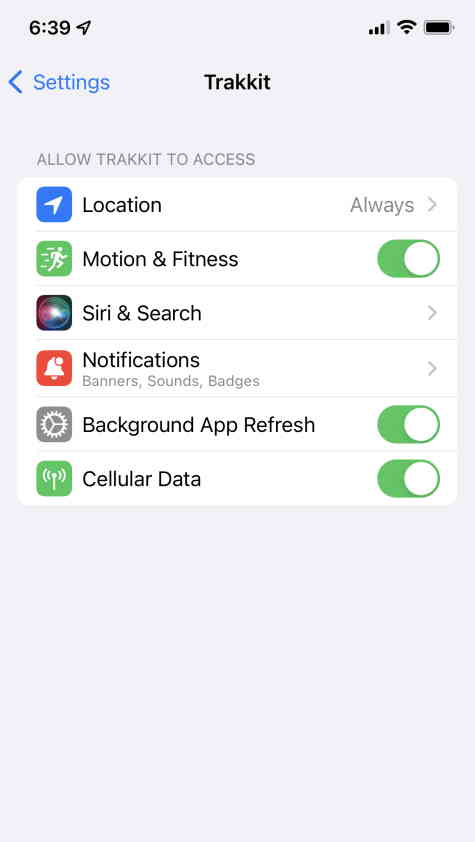 Be sure to choose Always allow access to this Devices Location in the Background. Allow All the Time.
This ensures that the app can track while the phone is idle in the background and uses the least battery power.
Be sure to limit other apps' mobile data access, except Trakkit. This will keep the data usage to a minimum.
You will also want to disable data sync or backup services as this will drain the phone battery quicker and put the phone on do not disturb if you can.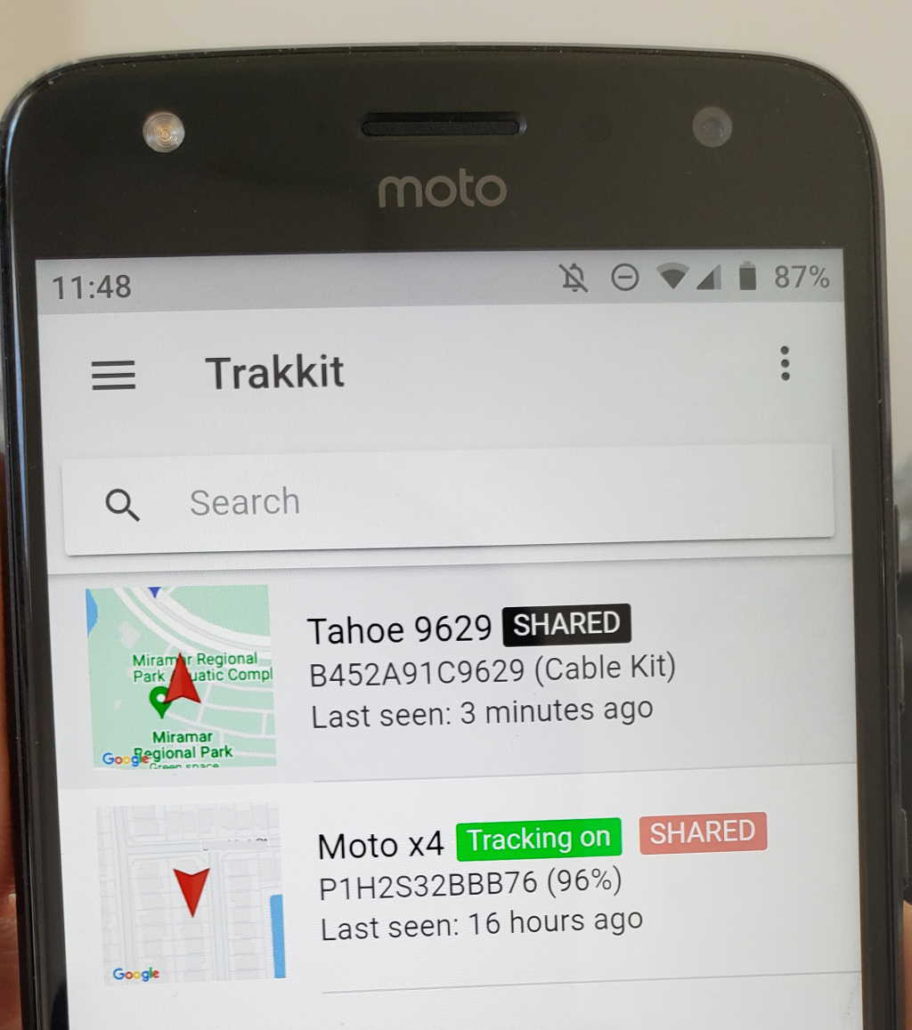 After you install the Trakkit app, you should see Tracking On, this means the phone can now be a GPS tracking device.
Ready to Track a Car with the Phone
After installing the app, you may want to drive or walk around the neighborhood to be sure it is tracking you.
Now just place the phone somewhere inside the car. On the floor between the seat and door is a great place.
You will have to watch the battery level on the phone so that you can retrieve it to charge it up.
The good news is Trakkit also shows you the battery level on the phone being tracked. You can even set alerts when it drops to a certain battery level.
Now you can monitor the phone being tracked from another phone (with the Trakkit app installed), or from the Trakkit desktop browser app.
Also, this is a great way to track the location of family members or even a lost or stolen phone.
Additional Tracking Features of the Trakkit App:
Motion Detection
The Trakkit app can detect when there is motion or movement on your phone. So, you could set an alert if your phone starts moving away from its recent resting area.
Battery Level + Charging
You can see the battery level percentage of the phone, so you know if it needs to be charged. You will also see if it is plugged in charging.
Geo-Zone Alerts
A geo zone is an area or zone you designate that could trigger an alert if your tracked phone leaves or enters that zone.
Sharing
Sharing allows you to share your phone's location with a friend or family member.
All they need is to install the Trakkit app and create an account. Click Sharing in the app, enter their email address and they can now see your location.
Speed Alerts
You can set an alert if a certain speed limit is exceeded.
Location Data Export and Mileage Reports
You can export the phone location data and even calculate mileage reports.
How to Hide the App
You can even hide the app so the user won't discover it. The app icon can be hidden and also from Search Apps.
Here is an article explaining how to hide an app on iPhone and hide app on Android.
see more features on using a GPS tracker for phone.
Use an Old Phone as GPS Tracker – No SIM
If you don't need Live (real-time) tracking, then you don't need a SIM card or data plan. The Trakkit app will record where the vehicle goes and when the car is back home it will automatically upload the GPS history so you can see it from another phone app or desktop browser.
For example, we tested this on a random phone. We bought a used iPhone 5s for $38. Installed Trakkit, created an account, and enabled Always for the App in the background.
No SIM card was installed, but we made sure WiFi was On.
Then, placed the phone under the seat, wedged under the floor mat, and drove around for the day. When back home, we checked the app, and it recorded the entire trip for that day.
(more about why GPS can work without data)
Cheapest Way to GPS Track a Car (for free)
A very clever and free way to track someone's car is after you install the Trakkit app mentioned above, just leave your phone in that car, just say you lost it.
Now login to Trakkit from any desktop browser or laptop and watch where your phone is going or where it has been. You can also see how long the vehicle was at a certain location.
How to Hardwire a Cell Phone in the Car
You can even make the cell phone GPS tracker a permanent install in the car by putting a 12 Volt to USB adapter in the car, then just plug the phone charging cable into that USB port.
Here are the parts needed to install it in a car or truck, we sell this kit, pre-configured for you: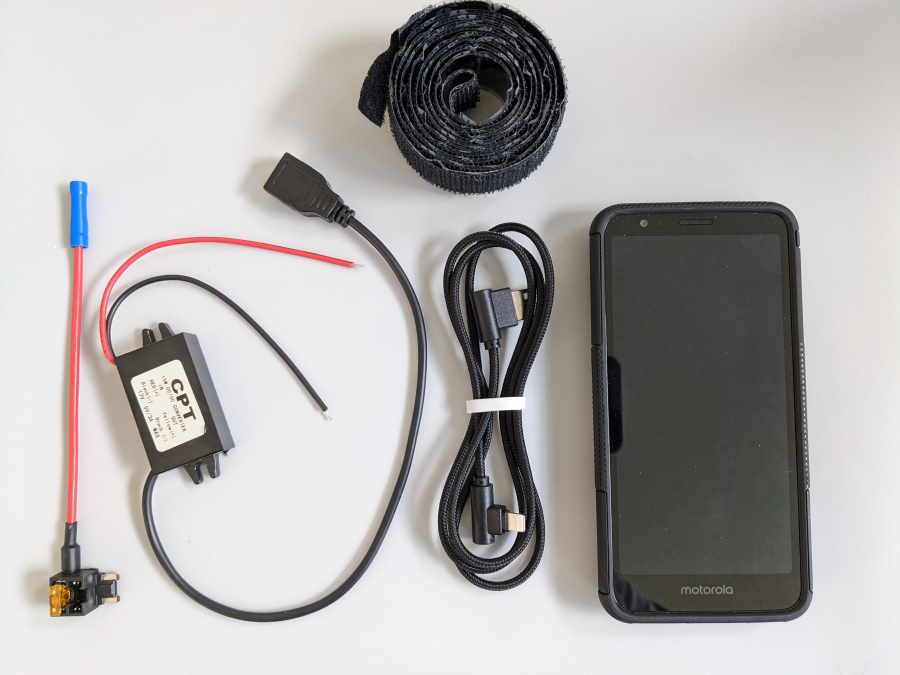 For example, you can install the 12 volt USB adapter in the fuse panel on the side of the dash and then mount the phone somewhere under the dash.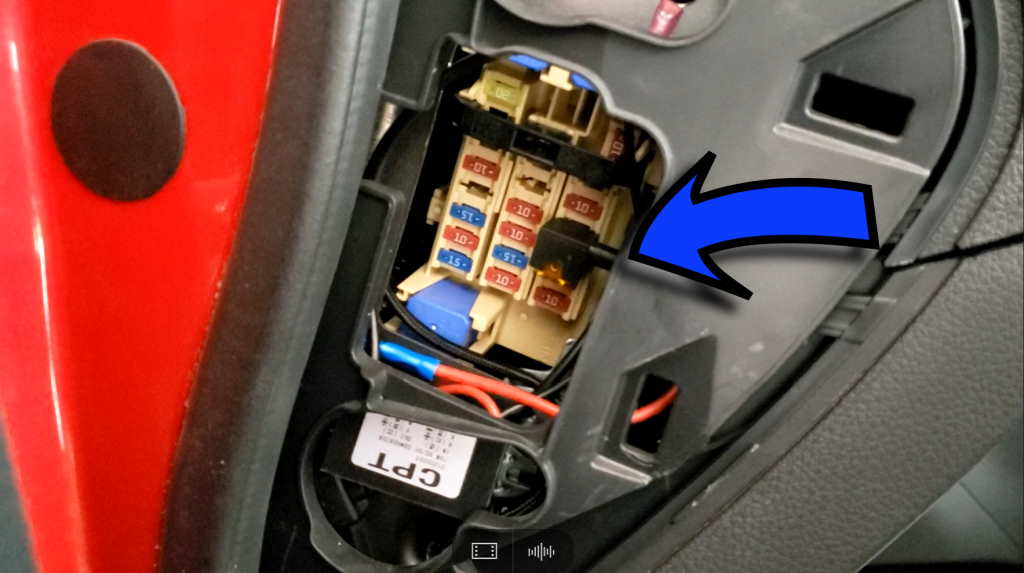 Here is the fuse adapter kit I recommend. It lets you easily connect the phone adapter to your car's fuse panel.
I installed the fuse adapter on the right side, which is the Ignition side, so when the car is running the adapter is live and the phone is charging. When the ignition is off, the phone is still able to track using it's own battery.
Here is the phone installed under the dash.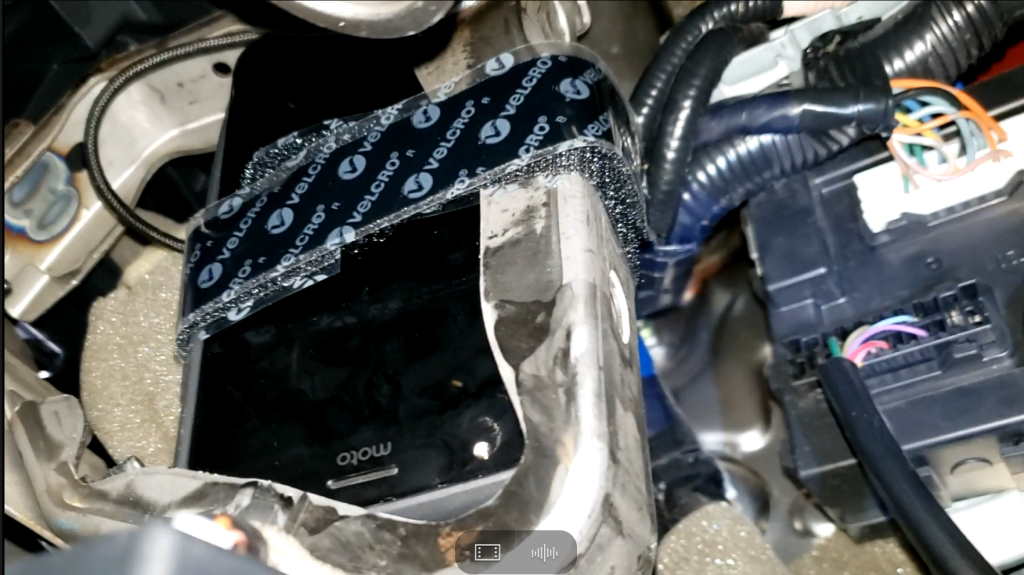 I strapped the phone inside a bracket under the steering wheel using velcro, so the phone could be removed in case of an emergency to make a phone call.
You can see the cable plugged into the phone and the other end goes to the USB adapter pictured above.
This works very well as a GPS tracker with a cheap $5 data plan.
If you just wanted to attach a phone to track a car somewhere on the outside of the vehicle, you could just put the phone inside a waterproof magnetic case like this one: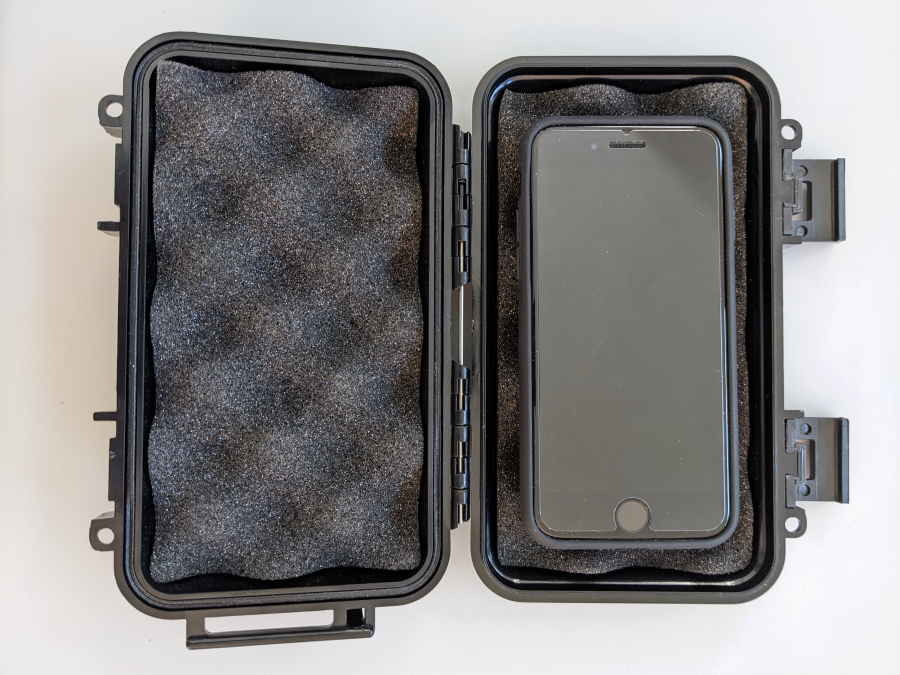 Here is the link to the waterproof case.
When using the magnetic case above, I removed the center of 3 magnets because it was too strong.
Trakkit sells the complete kit including the phone:
Conclusion
See the many other ways there are to track a car; but if you want an easy way to track a car using a cell phone, at very little expense with the advantage of having an extra phone, or using one you already have, then the Trakkit GPS phone tracking app is the way to go.
---
FAQs
How do I Track my Wife's Car?
You can track another car with a GPS tracker or use another cell phone as the GPS tracker.
How do you Secretly Track a Car?
You can secretly track a car by placing a GPS tracker somewhere on or inside the car.